On the blog today, I'd like to introduce you to one of my favorite photographers in the Twin Cities. Over the years and the hundreds of events I've entertained at, I've had the pleasure of seeing her working her photography magic!  Before our current condition (global pandemic), I met with Sue in St. Louis Park, MN for coffee and had a great conversation. Check out the interview below!
At this time, when so many of us vendors are out of jobs, we must support each other! Please consider sending some business to Sue/hiring her as your photographer/ at your next event, when the world is back up and running again. Precious memories are so important to capture and preserve by one of the coolest cats (professional photographers) around.  Here is her story!
Who is Sue Lund?
I am a professional photographer in the Twin Cities photographing everything from babies to brides and beyond, specializing in bar and bat mitzvah photography and events- anniversaries, weddings, non-profit events, etc.
How did you get into the events and photography business?
Photography is my second career. My first career was as a financial credit analyst living in New York City, where I was born and raised. I have a master's degree in business and worked on Wall Street. My husband (almost 30 years ago now) got a job offer in Minnesota and we came out here to call Minnesota our home. At that point, I had wanted to start a family and be home with my kids. I left the financial world and thought I was going to be a stay at home mom, but went a little stir crazy being at home. I was the person to take photos at the family weddings and I had a gift for photography. At that moment, I did not know it would become my second career- my God given talent and passion.
I decided – then- one year after my first child was born- to go into the events and photography business so that I could be home with my kids during the week. I started my own business and became self employed. I mostly did weddings and bar and bat mitzvah events on the weekends.  I was the recommended photographer at the University Club in St Paul, which is where I did my first wedding gig. And so I started doing weddings on weekends so that I could be home with my kids during the week while my husband watched them on weekends. I booked so many weddings and bar and bat mitzvah events – my business took off like wild fire! I was hooked!  I've been running my own photography business for 26 years now; my daughter is 27 and I also have a 24 year old son. So, that's how I got into the biz. I wanted to be home with my children, but also wanted an opportunity to do meaningful work and pursue my passion. It turned out that photography was my passion and my love. One of the best decisions I have ever made!
What do you enjoy most about your job?
The people. I meet so many people. I also love capturing candid moments. Capturing the love and the joy, especially at bar mitzvah and bat mitzvah celebrations. That's what it's all about. It's a simcha, which means a joyous event. There's so much love, pride and joy-  and it's amazing to share in that event with a family. Also, weddings are amazing to witness and capture. To be there behind the scenes and capture what's going on, it just fills me with joy. There is so much love and community closeness and fun! It feels amazing for me, every single time to be fully present and share in these joyous, once in a lifetime, events.   I have also become friends with so many people I have met through my photography.  I love that!
What are some of your favorite venues to shoot at in the Minneapolis/St. Paul area?
I have photographed at eight different synagogues in the Twin Cities and I have to say photographing at synagogues is my favorite venue.  My home synagogue is Mount Zion Temple in St Paul. I love the architecture and the symbolism in the sanctuary. I was just at Temple Israel. That's a gorgeous synagogue with a star of David on the ceiling that just permeates the place. Beautiful. I love to pose the bar mitzvah and bat mitzvah under that star, by the arc, as well as in different spots in the synagogue.  Photographing the amilies that have come near and far together on the bema steps is the perfect time to get everyone together for a professional photograph of everyone in their family.
I must say I'm in love with the different synagogues as venues. Both because of their architecture and my love of Judaism.  I know the important ritual items and ceremonies to photograph, from the grandma's hand-made kippah to the yad (pointer for the Torah) that was given as a gift.  I make sure to photograph it all. From Bet Shalom, Mount Zion, Temple Israel, Adath, Beth El, Shir Tikvah, Temple of Aaron, to Beth Jacob. I have been there. I've also photographed several b'nai mitzvot at B'nai Israel in Rochester and have traveled as far at Seattle, Washington to photograph a bar mitzvah. I'm photographing a wedding coming up at Adath that I'm very excited about at Hanukkah. They're going to have a Hanukkah chuppah, so I'm just thrilled with that.
I have so enjoyed getting to know all the clergy at these many synagogues. We have formed some close bonds, working together as I take the pictures for all these bar and bat mitzvah families. I so admire the clergy's ability to lead our young people at this crucial time in their lives through the bar and bat mitzvah journey. Every bar and bat mitzvah I have photographed has become bar and bar mitzvah, because of the support they have received not only from their family and friends, but for a very large part from our clergy. We owe them an enormous amount of gratitude, for leading our next generation with such heart and soul.
I also am the photographer for the city of Burnsville (for the past 8 years) and I love their events! They provide such excellent activities for all their families. They're amazing. I go to many kinds of parks and centers and gigs, including photographing Santa pictures in the Ice Arena, in Burnsville.  Their International Festival is always a joy to photograph. With the photography work I have done for the City of Burnsville, it's always something different and fun, as well as new people to see and to photograph. I have even photographed the current portrait of the Mayor of Burnsville, that hangs proudly on the wall in Burnsville City Hall.
Where are you from originally and how long you've been in Minneapolis?
I am originally from New York City. We lived in NJ for seven years and then, came here for my husband's job. I've been here in Minnesota ever since, for 29 years. This my home. I raised two children here and they're now, 27 and 24. One of them is married and the other one just bought a house. Very exciting.  My daughter is a doctor.. a surgeon at Mayo.  I am so proud of both of my kids! My husband and I have been married for 35 years.  My husband is gainfully employed as a software developer. We have built a wonderful life together with great neighbors and community.
What is your biggest pet peeve?
When I am taking a group photo, or even an individual portrait and the subject across from me and my camera is chewing gum! It's difficult to get a good photo, for them to look natural or even smile. They have to either remove it, stop chewing or some even swallow it! EEKS! Not their best moment or mine to have to ask them to change this behavior for the perfect photo.
What's one of your biggest challenges in your job?
One thing is when I'm taking pictures and somebody comes along and also wants to take a picture. So I asked them to wait until I'm done and then they take the picture. That happens often when I am taking group, posed, family photos at an event.
I'm okay with that, but it is important to get my work done in a timely fashion.  And sometimes that eats into my time when I'm taking pictures. Clients have told me that I am very patient and good with working with others, so I do manage this well.
Any extra special memories that stand out over the years?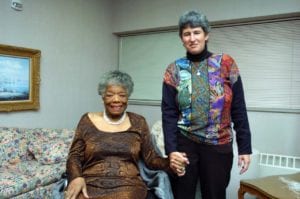 I mentioned I love meeting people when I photograph. One of my most wonderful, extra special memories was when I was privileged to meet and photograph Dr. Maya Angelou.
That was one of the best experiences of my life. There were 10 different opportunities/groupings for photographs. Maya was in a private room and 10 sets of donors entered the room during our photo shoot. It was my job to photograph Maya with each of the 10 sets of donors.
Maya was in a wheelchair. As each group would enter the room, they would gather around Maya for a group photo.  As they would start to bend down to be at her level, she would say: stand tall, take my hand. Do not bow down for anybody but God.  Don't bow down for me. Take my hand, stand tall. She repeated the same words all 10 times… Wow! Bow only before God. Take my hand, let's be together. But stand tall. Such a wonderful moment and message. Unforgettable for me.
It was so inspirational!
She did not want them to bend down to her level– even tho she was in a wheel chair. She wanted everyone to stand tall and take her hand. I found that to be incredibly moving. I will always remember how that made everyone feel. Standing tall- connected- important. There, holding hands with their hero, Dr. Maya Angelou. Each in their own, rightful place, side-by side. Together. Hands touching hands. Souls touching souls. So powerful. Connected.
The other thing I remembered about her was that she asked everyone their name, their first and their last name.  She is meeting them for the first and last time, but she still wants to know their entire name. She cares completely about each person she meets, even for one brief shining moment.  She made everyone feel important.
Another very special memory was the opportunity to photograph Lily Tomlin. And she even signed my record album after we were all done! Lilly was very, very funny.. and fun to photograph!
It's wonderful when you can meet somebody and see that they're genuinely who they are. Lily Tomlin was authentically Lilly. The person you would expect to meet behind the screen. She was kind and funny and real. Such a pleasure to meet and photograph! Not just that she's funny on stage, but she is funny and gracious in reality. Such a great photo op!
For one final fun special memory, I will mention when I photographed a bride who was a fire fighter! After the wedding ceremony, we went to the fire station and got the most perfect photos of the bride and groom, complete with the bride wearing her fire hat, fire truck, wedding party, and dalmatian dogs! Priceless!
If you were a superhero, what power would you have?
I would fly, so I could get to more places. And then I could take pictures from above.
I do like to take pictures from different angles, some below, some from above. When they go low, I go high!
Keep it fresh and different. I've been doing this for 26 years. And that's another thing I wanted to say – was that when I go into the same venue, I see different things each time I go. So it's kind of nice. I do the regular shots that I always do, but then I'll find a new shot, which is pretty exciting. Or I'll see something different. So last Saturday I was at Temple Israel and they have different doors in the sanctuary, by the arc with the Torahs.
I love that the sanctuaries are all so different. At Temple Israel, they have an outer door, which is metal, and they have an inner glass door. And then there's a photo op closest to the Torahs, with no door. So there's three different photo ops. I really like the different textures/lighting/backdrops for each of the doors/no door. Just this past Saturday, I noticed that that the outer door had been dedicated by six people and the names were on the door, which I had never noticed before, which is kind of cool.
Often, there will be something I'll see in the sanctuary that's symbolic that I will work into a photo that I hadn't seen before. I always notice something new!  Similar to- as if I was flying above (talking superhero now..) and seeing an area for the first time! I like to keep it fresh and new, always looking for a new angle. I like to pose the bar or bat mitzvah from different angles, in different places in the sanctuary, especially with the Torah.  If I was flying, I could get a great shot of that Torah! Better yet, I could get a drone and fly over it… a drone shot for sure!
Film or digital? And when did you convert over?
I'll always remember the year I converted from film to digital. It was absolutely amazing and I never went back.
I started my business in '93. I went all film until 2006. I have now shot digital from 2006 to 2020- so 14 years and going strong. I love digital. It's so flexible. I take a lot more pictures and it's a lot more work because I edit every picture on the computer, so that's a lot more time. But it's amazing. I love it. I love that you see the photo immediately- so you can make corrections on the spot. It's like the Polaroids, but you have to wait for the Polaroids to process.
And the cameras are amazing now. My current Nikon D750 shoots SO WELL in low light. I love that.  I hardly ever have to use additional lighting.  All natural light.  Beautiful.  Just beautiful. I hardly ever need to use my flash attachment.  Back in the old days my tagline was: "From Moments to Memories in a Flash! …Click, click"
When you were a kid, what did you want to be when you grew up?
Back in my younger days, or as far as I can remember, I either wanted to be a professional basketball player or a Bank President! I played college basketball and am still a fan of the Men's NCAA March Madness tournament every year. I was thrilled to be able to attend the final championship game played here in Minneapolis in April 2019.
But my biggest dream back in the day when I worked on Wall Street was to be the President of a Bank. That dream changed when I moved to Minnesota and got very involved in our Jewish Community.  Instead of becoming Bank President, I became a Temple President! I found that to be so much more rewarding.
I feel so fulfilled with a life dedicated to my faith and to my community.  As President of our synagogue, I connected with so many people. As you know, what I said earlier in this interview- what I love most about my job is – the people.  My goal is to serve people. And so by serving my community, whether through my synagogue or through my photography, that's when I feel like I'm giving back to the world the most – and this is when I am the happiest.
Any final thoughts?
I am the founder and leader of a program in the Twin Cities called: Mitzvah Clowning.  This is one of my favorite volunteer activities. I bring kids and adults, dressed up as clowns, to Sholom Home nursing homes to bring good cheer and joy- and balloon animals to the residents! The 7th graders that join us participate in this project for their 7th grade mitzvah/good deed/project for their bar or bat mitzvah. This is such a wonderful way for our young people to give back to the community and help/visit the elderly. The residents really love when the kids visit.  As part of my clown gig, I also juggle.  So, you can call me the Jewish, Juggling Clown and Professional Photographer.  My clown name is: Simcha. Or as I like to say: Joy!
My mission in life is to spread joy and laughter, love and peace.  I do that, primarily, by capturing life- cycle moments through my photography. My passion is to go forth spreading good cheer and creating a historical record of people's lives, so that they will never forget- leaving a legacy for future generations. As I like to say in Hebrew- L'dor Va Dor- From Generation to Generation. L'chaim! To Life! Shalom! Peace! May we granted a long life of peace and good health!
Check out her site here: https://www.suelundphoto.com/ 
Sue can be contacted at [email protected] or 952.217.0594.