Did you know that the oldest operating magic shop for magicians in the United States resides right here in the Twin Cities? It's true. It's called Eagle Magic Store and it's been existence since the year 1899!I've been going there ever since I was a child! Originally it was based in Minneapolis near the old Metrodome (where the MN Vikings and MN Twins played). I remember how excited I would be after asking my mom to drive me to downtown Minneapolis from Maple Grove where we lived. There's the old saying "like a kid in a candy store"… that's exactly how I felt except it was a shop full of books, tricks, VHS tapes available for magicians to better hone their craft.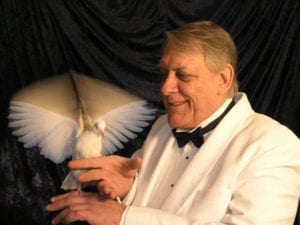 The store is run by magician Larry Kahlow and his lovely wife Jennifer. Larry is a wealth of knowledge and wisdom for magicians. The store feels like a museum of magic. He's pretty much "seen it all" when it comes to all kinds of magic, whether it be small close up magic tricks or large stage illusions. One of the coolest things about the shop is all of the famous non-magicians who come through over the years. Probably Larry's most famous customer was Muhammad Ali. There's a picture on the wall of Ali checking out different magic tricks as he spent several hours at the magic shop.
It's a neat story as Larry visited the site when he was a young magician. As many young magicians do this now when they're looking to learn amazing magic tricks. He then in 1970 started working at the store and then in 1976 he actually became the owner! So it's come full circle!
Have you experienced going to a magic shop?
In case you've never visited a magic shop, let me describe the journey. You'll first enter and your eyes will get big as you gaze at all of the magic props and memorabilia in the cases and on the walls. You'll then approach the demonstrator, which on many days is Larry himself. You start a conversation about the types of magic your into. Maybe it's close up, maybe it's stage. Maybe it's something with a deck of cards or maybe some rope. Sleight of hand versus self working?
You'll then see some amazing magic demonstrated so you can get the feel of what the trick is all about. Depending on what you're looking for, you can purchase individual magic tricks and illusions or eductional items like books and dvds. It's really a "magical" experience (sorry for the pun but I couldn't help myself).
Every time I visit the shop, Larry is always there providing helpful tips and priceless advice whether it's a full time professional magician (like me) or an up and coming young person who's just getting into the art.
It's not just magic tricks either! Looking for a hilarious prank gag? There are some really funny joke items you can purchase here, including a fake arm that hangs out of your trunk (making it look like you stuffed someone in your trunk and they're arm is hanging out). I used this gag a lot on car trips with my grandma and the looks we would we get was so funny and kept us laughing the entire trip.
Larry himself is a very funny and interesting guy. If you're in the Twin Cities, I recommend calling ahead. You'll know he's there and he answers the phone with his signature deep voice "Eagle Magic".
You don't have to be a professional magician to visit the store! Hobbyist of all levels are welcome too! FYI: In recent years, the shop has relocated to Burnsville, MN.
One of Larry's sayings is "It's fun to be fooled, but more fun to be The Fooler." And in the case of Eagle Magic Shop, that means fooling your audiences with magic and practical jokes.